Processing your business quickly is something we're passionate about. We do this by giving clients one simple journey, with built-in instant, accelerated, lab-free experiences based on eligibility and availability.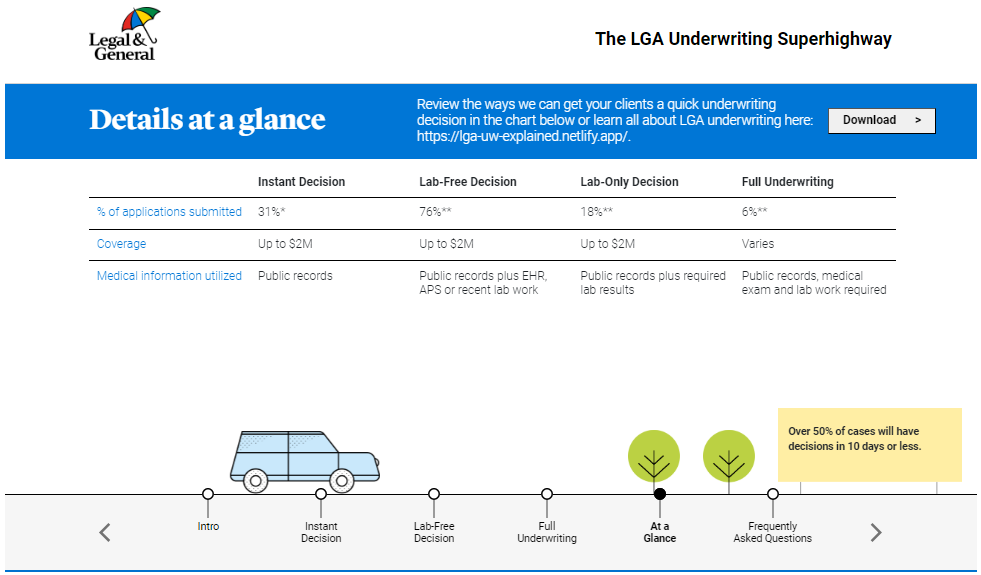 Underwriting journey
Join us as we take you through the underwriting journey. Along the way, you'll stop and learn about what we offer, from instant decisions to a full underwriting experience. See where you'll end up at the end of your trip.
Underwriting guidelines
Our underwriting field guide gives you a preview of ideal client profiles, rate class requirements, underwriting criteria, along with other helpful resources.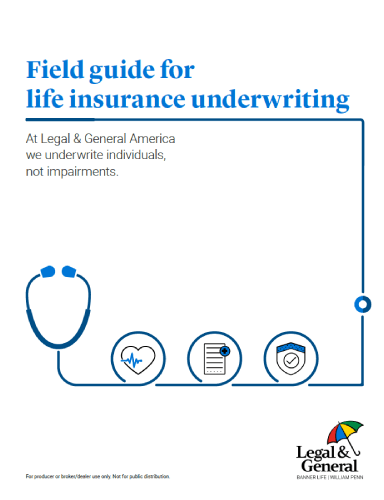 Hear from our experts
How has underwriting evolved over time and what's in store for its future? Get expert takes from our own team.

Zach Pugh,
Chief Underwriter
Key takeaways from the video:
LGA is innovating through technology, tools and data sources to remove friction, while maintaining competitive rates
LGA's underwriting philosophy balances the need for speed with the need for price
While evidence-based research is one component in underwriting execution, LGA integrates a commonsense approach into the process
Dr. Edgar Fernandez

,
Chief Medical Officer
Key takeaways from the video:
LGA is using technology and looking at cases on individual basis to help impaired risk individuals obtain the protection they need
Medical trends and increased availability of data will help LGA make better determinations on insurability, allowing more people the coverage they need
There is a strong likelihood that mortality will decrease because of more immediate data and interventions of detected issues
Janet Joslin,
Underwriting Director
Key takeaways from the video:
There is substantial change happening at LGA, all with underlying intent to create a more positive experience for our partners and customers
While technology is a strong underpinning of LGA, strong business relationships are critical to LGA and the insurance industry
With our strong willingness to help our partners, LGA wants to ensure we're the partner that you're comfortable with and are easy to do business with
Michael Tunney,
Underwriting Director
Key takeaways from the video:
A critical underpinning at LGA is ensuring that our team is working together, to meet and exceed our partners' and customers' needs
There is significant growth, innovation and change happening at LGA, across tools, technology and talent
LGA is well-positioned and ready to go above and beyond to take care of your customers
Underwriting's Digital Renaissance
Post-COVID, insurance carriers can do more than ever before, with underwriters driving change in the life insurance industry one accelerated application at a time. And LGA is no exception. Check out page 20 of InsuranceNewsNet's latest issue to learn more about our digital application and enhanced automated underwriting offerings.
Shorter cycle times thanks to EHRs
EHRs reduce the need for exams and/or labs. With 80 percent of EHRs turned around in 24 hours or less and costing significantly less than an APS, APS may become a thing of the past. Read more about this and how underwriters assess risk faster and more thoroughly.
Underwriting strengths
We know no one's perfect. That's why our underwriters consider the whole person to get your clients the best rate possible. Check out our other underwriting strengths and start the journey today.