Processing your business quickly is something we're passionate about. We do this by giving clients one simple journey, with built-in instant, accelerated, lab-free experiences based on eligibility and availability.
Underwriting journey
Join us as we take you through the underwriting journey. Along the way, you'll stop and learn about what we offer, from instant decisions to a full underwriting experience. See where you'll end up at the end of your trip.
Underwriting guidelines
Our underwriting field guide gives you a preview of ideal client profiles, rate class requirements, underwriting criteria, along with other helpful resources.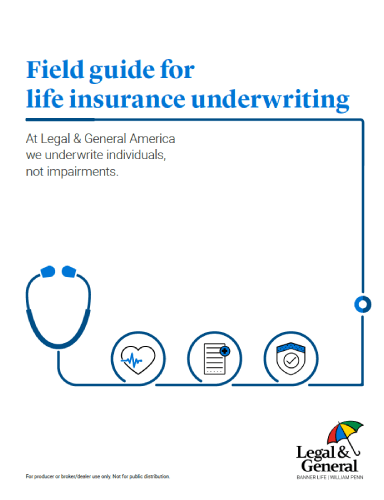 Hear from our experts
How has underwriting evolved over time and what's in store for its future? Get expert takes from our own team.

Dr. Edgar Fernandez
Chief Medical Officer
Zach Pugh
Chief Underwriter
Patti DeWitt
VP, Underwriting & Claims Operations
Janet Joslin
Underwriting Director
Michael Tunney
Underwriting Director
Shorter cycle times thanks to EHRs
EHRs reduce the need for exams and/or labs. With 80 percent of EHRs turned around in 24 hours or less and costing significantly less than an APS, APS may become a thing of the past. Read more about this and how underwriters assess risk faster and more thoroughly.
Underwriting strengths
We know no one's perfect. That's why our underwriters consider the whole person to get your clients the best rate possible. Check out our other underwriting strengths and start the journey today.