LifeStep universal life insurance
An easy choice for conversions or for clients who may be more conservative with risk and are looking for reliable permanent life insurance.
Guaranteed Universal Life Insurance (GUL)
Life Step UL is a flexible, premium and permanent universal life insurance plan This permanent life insurance product which offers guaranteed coverage to age 121 as long as premiums are paid in full. Our guaranteed universal life (GUL) serves as a middle ground between our term and a whole life product. Your client can enjoy the benefits of a permanent life option at a cost that is less expensive than a whole life policy.
Like most GUL policies, Life Step UL is not designed to build cash value, but it does have a cash value component with a guaranteed interest rate. The cash value accumulates on a tax-deferred basis and there are provisions for policy loans and partial or full cash surrender.
Features
Lifetime coverage
Convert from OPTerm in same UW class without additional underwriting, as long as the term policy meets conversion eligibility
Flexible premium payments
Minimum amount $50,000
Issue ages 20-85
Cash surrender option
Guaranteed interest rate
Guaranteed death benefit
Short pay guarantee
Accelerated death benefit rider included

Term conversion without additional medical or underwriting
Permanent coverage
Coverage for seniors 55+
Leave a lifelong legacy or inheritance for beneficiary
99% of claims filed are approved, then paid in one business day

1.5 million customers count on LGA
AM Best Rating: A+

S&P and Fitch Rating: A+
COMDEX Score: 95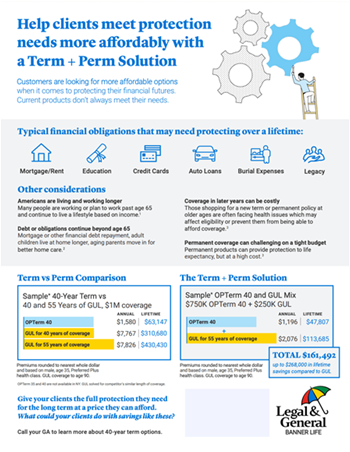 Permanent coverage
We designed Life Step UL to provide an opportunity for term conversions, or new policies with face amounts as low as $50,000. Universal life insurance policies give your client a permanent option with the most flexibility for premium payments.
Policy conversions
We make converting a term policy easy, and if it meets conversion eligibility requirements then no further underwriting is required. OPTerm policies are convertible for the duration of the guaranteed level premium period or up to attained age 70, whichever comes first.
If there is a request for a change in underwriting class or the addition of benefits, then the client will have to apply for a new policy. For policy conversions, Life Step UL will be issued in the same underwriting class as the term policy being converted.
Flexible premiums
With universal life, flexibility is key. Your client can change the timing and amount of premium payments on an annual basis, choosing to pay more up front and less in their retirement days, or in another way that suits their lifestyle best. They do need to pay premiums to keep coverage in force, however being late on any one premium does not itself, place the policy at risk for a lapse of coverage.
Catch-up premiums, surrenders and options:
With premium flexibility comes options. There are provisions for clients to make catch-up payments if they get behind or miss a payment. If their budget or lifestyle changes and they don't need as much coverage they can reduce their death benefit without having to buy a new policy. There are also possibilities for policy surrenders, partial surrenders, and even policy loans in certain circumstances.

No lapse guarantees:


Life Step UL has an additional guarantee, sometimes called the secondary guarantee, which will prevent a lapse of coverage. No lapse Universal life insurance provides an extra layer of protection to customers who pay the planned premium on time to prevent the policy from lapsing.
---
Short pay guarantees
The short pay guarantee allows your client to build a customized premium payment for a specific number of years. For example, maybe they have an inheritance and want to use it to pay enough premiums to guarantee lifetime coverage, or perhaps they want a plan where they can complete the lifetime premium payments before they retire. The short pay allows them to do this by consolidating the premium payments required for a lifetime guarantee over a limited period. The premium payments would stop after the payment period has ended.
---
Coverage for young adults to seniors
We cover a wide range of people of all ages, from 20-85 years old, offering affordable guaranteed universal life insurance for seniors. Debt or other financial obligations can start early or extend beyond age 65 so we make it easy for our customers, living a lifestyle based on income, to apply for a permanent policy.
A GUL policy can be a better permanent life insurance option for seniors than a whole life policy. Many seniors have fewer years to accumulate interest from the cash value on a whole life policy and may not need all the extras. Give your clients the full protection they need for the long term at a price they can afford.
---
Accelerated Death Benefit Rider (ADB)
An accelerated death benefit payment (ADB) is payable to the client in the event of a qualifying terminal illness. The maximum ADB amount is the lesser of $500,000 or 75% of the policy's primary death benefit, less any policy loan. An ADB is treated as a lien on the policy, which accrues interest. If the ADB is paid, it may affect the policy's cash value, death benefit, premium and policy loans or liens.
The ADB feature is subject to state variation and may not be available in all states