A more human way to buy and sell life insurance
The Horizon Experience is our people-first approach to moving your business forward in a digital world. It's adapting to your environment — with flexibility and simplicity that empowers you to interact and work faster with your clients.
We'll continue to strengthen and enhance our digital offerings, life insurance products, underwriting capabilities, and most importantly, our working relationships with advisors like you.
For your clients, Horizon is customized and personalized service the way they want it — whether that means a solo journey through our digital app, some help along the way from you, or a hand from our skilled in-house AppAssist team.
We'll never lose sight that while technology will continue to be key, life insurance is all about people. And we're all about helping people.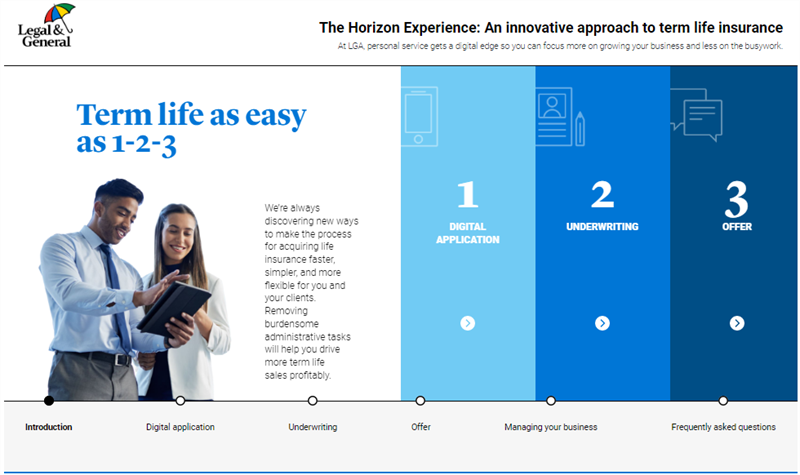 Make getting life insurance easier than ever with our innovative approach featuring lab-free, digital applications and real-time requirements ordering.
Learn more
The Horizon Experience
With dozens of benefits baked in, the Horizon Experience provides greater flexibility and simplicity making it easier than ever to provide your clients with life insurance coverage.

Download Horizon Benefits Flyer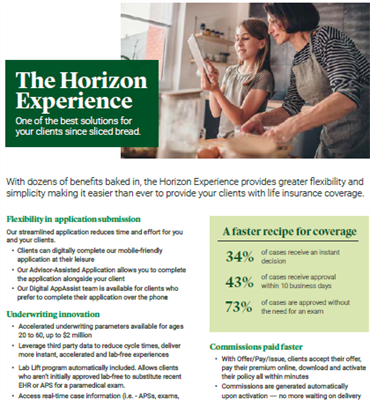 Fintech built for insurance and people
The Horizon Experience includes a portfolio of end-to-end digital capabilities and automated processes that provide speed, flexibility and convenience for advisors and clients.

Accelerated Underwriting
Built into the digital application are accelerated underwriting opportunities. Decisions can happen instantly (23% of our cases) or in just a few hours for eligible applicants. And 63% of cases are approved lab-free, with future enhancements on the way.

Advisor Application
This new feature allows the advisor — or the advisor and the client — to start the application process with just a few data points and help them through the entire process (we're the only carrier in the country with this digital capability). It reduces application time, speeds up cycle times and lets clients get back to their lives faster.

Digital AppAssist (tele-application)
All the benefits of Legal & General America's experienced in-house team are paired with the speed and efficiencies of the digital application. If preferred, a 30-minute phone interview to complete the application can be scheduled at the client's convenience.

Digital Application
Our smart and streamlined digital application makes it easy for clients to apply online anytime, on any device in as little as 20 minutes. The technology we use is built for the future to adapt to enhancements and other new capabilities.

Digital delivery (offer/pay/issue)
Digital delivery allows clients to receive a policy offer, and then pay, finalize and download their policy in minutes. That means advisors can collect commissions faster. Case status is updated in real-time, and email or text reminders help clients complete the process.

Lab Lift exam substitution program
With the Lab Lift exam-substitution program, eligible applicants can use recent lab work to substitute traditional exams with Electronic Health Records or an Attending Physician's Statement at no additional cost. Adding Lab Lift to our accelerated underwriting opportunities in the digital application greatly increases the chance for lab-free approvals.
Digital resources for growth
We believe in making it easy to understand our products and find the tools you need for success in your business. From custom tools to personalized marketing materials, our resources are online and accessible to you anytime anywhere.