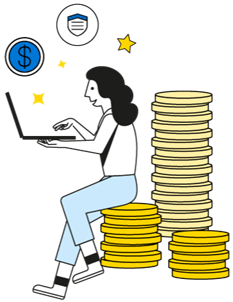 Is it time for a life insurance review?
As your life changes it is important to check that your life insurance policy continues to cover your needs.
No matter what stage of life you're in life, purchasing a life insurance policy is a great idea. If you've already made the smart decision to buy life insurance, the amount and type of coverage that you currently have might be perfectly adequate, but as circumstances in your life change so may your insurance need.
What is an insurance review?
An insurance review is an opportunity to look at changes that have happened in your life and to check that your policy still covers your needs. You may prefer to speak with your licensed insurance professional or use a life insurance policy review checklist to help you.
How often should insurance be reviewed?
The insurance educators a Life Happens suggest that policy owners should evaluate their coverage annually or anytime a major life event happens to determine if changes need to be made. Being proactive in this area can ensure that your loved ones are properly taken care of in the future.
Income changes
Most people's annual income goes up as they progress through their careers. If the amount of life insurance you took out a few years ago was based on a previous income level, you might want to reexamine your policy. Additionally if your income changes due to an inheritance or a financial lifestyle change it is important to make sure that your life policy will adequately protect your family or loved ones.
Marriage or divorce
When a couple marries or divorces, many changes occur. In most cases, if you purchased a life insurance policy before the change in your marital status, the coverage level will most likely need to be adjusted. You might also need to consider changing a beneficiary or contingent beneficiary on the policy.
New home
For a majority of people, buying a home is the largest single financial investment they will make in their lifetimes. Ensuring that the amount of life insurance that you have is adequate after buying a house will play a big part in protecting your loved ones' ability to remain in the home well into the future.
Starting a family
When it comes to life insurance, there are few events that can affect your need for it more than starting a family. You'll want to ensure that your growing family's financial needs are taken care of in the future with respect to housing and living expenses.

Life insurance policy review checklist
Life can change in an instant, so it's important to keep reviewing your plans and priorities. Make sure your family has the financial protection they need.

Planning for education
Helping your loved ones with their educational pursuits is a top priority for many parents. Purchasing a life insurance policy is a great way to make certain that this important financial obligation can be funded well into the future.
Buying or selling a business
If you're running a business, you'll have a lot of financial decisions to make. You'll also want to decide how much protection your family and/or business partners will need if something happens to you. Taking the time to evaluate your current life insurance needs and how they will change in relationship with your business is an important step in the process.
Health changes
Often overlooked, reviewing your life insurance policy is important when someone in your family has experienced a major change in their health. A recent diagnosis, a disablement, or a loved one requiring long-term care could be a reason to look at your policy and be sure your needs are covered.
---
Bottom line
Life insurance has played a critical role in helping families meet their financial obligations after the loss of a loved one. When life changes it's important to look at your financial plans to be sure that your needs are covered. If you feel that your life circumstances have changed since you last purchased a policy, we are happy to discuss your needs with you.
Keep reading