Children's Life Insurance Rider
Coverage that protects your children.
As a parent with life insurance, you sleep better at night knowing that your family would be taken care of if something was to happen to you. Did you know that you can extend your policy to cover your children, too?
What is a child rider on life insurance?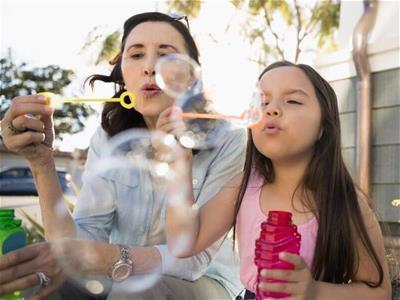 A child rider is an add-on to a life insurance policy that pays out a death benefit if one (or more than one) of your children passes away. This added coverage serves as a safety net for you so you can focus on your family instead of worrying about paying funeral expenses.
Adding a child term rider onto your life insurance policy is a cost-efficient way to insure the life of your children without having to buy a separate life insurance policy.
What's also practical about these riders is that they are convertible, which means they can be transformed into a permanent life insurance policy for your child.
How does a child term rider work?
In order to qualify for this add-on, your child needs to be between 15 days and 18 years old. The coverage will last either until their 25th birthday or your 65th birthday – whichever comes first. When the policy is about to expire, your child can convert the insurance rider into a stand-alone, individual policy without needing a medical exam or having to go through the approval process again.
If the worst-case scenario happens, the policy's death benefit (or policy payout) is a tax-free lump sum payment that can be used for any purpose. So you won't have to worry about paying for things like funeral expenses or income loss from an extended leave of absence from work while you grieve.
What are the benefits of adding a child rider?
A child insurance rider is an affordable way to make a long-term investment in your family's well-being. Here are some of the benefits that come with purchasing protection for your child:
One flat-fee rider covers multiple children, including future kids.
It protects your children regardless of their health status, even in the event that they develop a life-threatening health condition later in life (which could prevent them from qualifying for life insurance as an adult).
Can convert to permanent policy. Converting riders into a permanent life insurance policy is easy, it doesn't require a medical exam and it doesn't factor in your child's current health condition.
Coverage remains active even if the child gets married while they are enrolled.
At Legal & General America, we offer two policy options to cover your children, with costs that will remain the same every year so you know what to expect. For $5,000 in coverage the cost is just $27.50 a year, or you can select $10,000 of coverage for $55.00 a year.
Are there any exemptions?
If you're a parent considering a child insurance rider, there are a couple of things to keep in mind:
To add a child rider, you, the policyholder, should be between the ages of 20 and 55.

Qualifying children include any and all unmarried children, stepchildren or legally adopted children.

A child insurance rider can't be used in conjunction with other term riders.
The Accelerated Death Benefit on a base plan for the adult who is insured doesn't extend to child with the Children's Rider add-on.
Purchase of a child rider is limited to new policies, meaning it cannot be purchased after a policy is in place.
*Child rider is not available in all states. View legal disclaimer here.
Get a quote and add a child term rider to your life insurance policy
Add a child rider to your policy and get the extra financial protection your family would need in case the unexpected happens. If your kids grow to live a happy and healthy life, they will thank you for making it easier to get individual insurance.
We offer competitive rates, giving you affordable, high-quality life insurance for you and your children.
Contact us today at 1-888-984-3393 or get your personalized coverage quote online