How to get life insurance: From application to approval
If it's your first time going through the life insurance application process, you might feel unsure about what steps to take. Our experts here at Legal & General America (LGA) want to make it easy for you to get the protection you need, as fast and stress-free as possible.

This article will share how to get life insurance; from when to get it, to how to apply for coverage. We'll outline what you need to know, including information about medical exams, premiums, and things that could delay the life insurance approval process.
When to get life insurance
It's good to understand the importance of getting life insurance while you're young and healthy and to start the application process as soon as you decide.
When you're young and healthy you can lock in a lower rate that won't change throughout the life of your policy. This means that any illness or added financial burdens in your life won't cause a spike in your premiums or diminish your coverage.
However, you don't need to be in your 20s to benefit from affordable life insurance. Whether you're in your 30s, 40s, 50s, or you've retired and have an empty nest, you can still find options that fit your needs.
If you have dependents to care for, valuable assets to protect, or significant debt to pay off, you need to prepare for the unexpected. Companies like ours are here to help with competitive pricing and outstanding customer service.
Life insurance application process
There are several steps you need to follow to get through the approval process. Here's a summary:
---
1. Determine the amount of coverage you need
You don't need to be good at math or hire a financial planner to estimate how much coverage you need. You can use an online life insurance needs calculator to get a free estimate. Another option is to do it yourself by answering questions about your present and projected financial situation.

Start by totaling up your expected costs. Factor in funeral expenses, total debts, monthly living costs, medical bills, and education expenses. Be sure to add the amount of annual income your beneficiaries might need to live comfortably without your contribution. Children, elderly parents, and precious assets are other things to consider.
An even easier method recommended by experts? Multiply your income by 10 or 15 and use that total. For example, if you earn $50,000 a year, you'd buy at least a $500,000 policy.
2. Choose a policy type
There are two main categories of life insurance you can choose from: term life insurance, which provides coverage for a finite period of time, or permanent life insurance, which gives you life-long coverage. Both have their own advantages and address different needs.
If you're seeking budget-friendly coverage for a temporary need, such as protecting your mortgage or covering your family until the kids are financially independent, then term insurance might be the right answer.
With a term policy, you can also customize your coverage amount by adding extra protection for shorter time periods in the form of term riders. You can stack a term rider on a longer policy length to give you more coverage at the beginning. A Children's Life Insurance Rider, for instance, provides coverage for your children for a limited number of years (until they turn 25). Learn simple ways to buy term life insurance and shield your family from a financial crisis.
In terms of lifelong coverage, we offer a guaranteed universal life (UL) product. As one of the more affordable types of permanent insurance, UL comes with the benefit of flexible premiums and a guaranteed interest rate. You'll get a predictable death benefit with the ability to adjust the premium payments to fit your lifestyle.
Compare policies and read more about the specifics of each type of coverage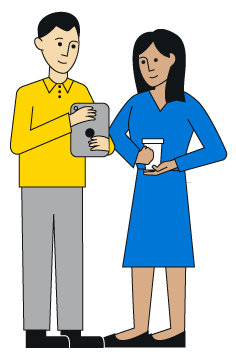 3. Get an instant quote
Save precious time by using our digital quote system. Our quick online form will take into consideration things like your age, gender, height, weight, nicotine use, zip code, and state, desired coverage amount, and policy length, before delivering an estimated monthly premium. With LGA, you'll also get some of the most competitive rates in the market. We've even quoted term life insurance rates for around $8 a month!
4. Apply online or prepare for a follow-up interview with a licensed agent
Immediately after getting your quote, you may be able to click straight through to apply online, or you can set up a call to talk with one of our licensed agents at your convenience. This step takes just 15 minutes online or less than an hour for a more detailed conversation by phone. You'll want to be prepared with the following application documents:
Driver's license.
Social Security number.
Contact details for the doctors, hospitals, or clinics you've frequented in the past 10 years.
Details of any prescription medicines you are taking.
Basic financial information.
Disclosure of any other life insurance policies you have held.
Beneficiary information
5. The medical exam and underwriting phase - how long does it take?
After the application, you may be subject to a medical exam depending on your health assessment. You won't have to pay for this as the insurance company will schedule a medical exam at their expense. This exam takes about 30 minutes and will involve collecting blood and urine samples, measuring your height, weight, blood pressure, and pulse rate, and, in some cases, an electrocardiogram (EKG).
It's mandatory to tell the truth when asked about your health status since any hidden details might lead to an increase in premiums later on or worse, the cancelation of your policy. The insurance company might even have the right to deny your beneficiary's claim to the death benefit if you fail to mention any underlying conditions or past surgeries.
After all the appropriate health information is collected, a life insurance professional will review your application to determine your final health class and premium (price for your policy). This step, also called the underwriting phase, can happen immediately with an instant decision or can take up to a couple of months.
The timeline varies due to the availability of exams, speed of requested reports, and communication with busy doctors' offices. The process is typically longer when additional medical documents are requested, or clarification is required by your doctor. The good news is that improvements in the secure transmission of online medical records are making the underwriting process faster.
Your ability to take advantage of accelerated underwriting depends on factors like age, health history, the type of insurance you're applying for, as well as the amount of coverage requested. The perfect candidates for this lab-free program are healthy individuals who don't take any prescription medications and have no history of a chronic illness.
Some companies charge more for lab-free, accelerated underwriting than for traditional policies with a medical exam. With LGA, you pay exactly the same for both. This means you have better chances of securing a competitively priced term policy with or without a medical test.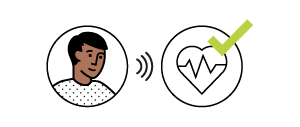 We offer an accelerated underwriting process. You may still need to take a short, no-cost medical exam, but the review process takes 48 hours or less.
6. Getting approved
If the insurance company approves your application, you will also receive the final cost of your premiums. The general rule is, the healthier you are the more likely you are to get the best rate class.
Smokers, overweight people prone to diabetes, people with a history of alcohol abuse, or drivers with a record of driving violations tend to have a higher risk profile, which comes with higher premiums.
7. Finalizing your policy
Your life insurance coverage is not active until you've accepted and signed your policy electronically, and the first premium payment has been received. Make sure to share the good news with your beneficiaries and store your policy in a safe place where they have access. After the policy is in place, you can easily manage it and designate or change beneficiaries online.