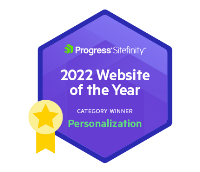 Legal & General America, the top term life insurance provider, announced today it has been named a 2022 Progress® Sitefinity® Website of the Year Awards winner in the Personalization category. Since 2011, the Sitefinity Website of the Year Awards have recognized partners and customers for the exceptional digital experiences they deliver to their customers and end-users.
LGA utilized segments and personas to enable customers to protect their loved ones and to equip advisors with the tools they need to grow their business. Through this work, LGA continuously delivered high-performing, seamless experiences that made a meaningful impact on company growth and customer satisfaction.
---
"We are proud to honor LGA with one of this year's Sitefinity Website of the Year Awards," said John Ainsworth, EVPEnterprise Application Experience Products, Progress."Without exception, all of the winning companies demonstrated extraordinary ingenuity in building world-class digital experiences that provide essential information, engage and connect with customers in meaningful ways."
---
Progress Sitefinity is a cloud-enabled, composable digital experience platform that revolutionizes the customer journey by empowering omni-channel experiences through a highly scalable, low complexity and value-driven approach. With the Sitefinity platform, organizations can build and manage innovative, engaging personalized user experiences with capabilities that streamline marketing and development tasks, simplify common technical challenges all while offering a high product value at a very competitive cost.
The 2022 Website of the Year Awards winners were evaluated across six categories of criteria—visual design, content, layout and navigation, complexity, innovation and significance—and selected through public voting with more than 6,200 votes cast. For more information, visit the"Website of the Year Awards"page.
About Progress
Progress (NASDAQ: PRGS) provides the leading products to develop, deploy and manage high-impact business applications. Our comprehensive product stack is designed to make technology teams more productive, and we have a deep commitment to the developer community, both open source and commercial alike. With Progress, organizations can accelerate the creation and delivery of strategic business applications, automate the process by which apps are configured, deployed and scaled, and make critical data and content more accessible and secure – leading to competitive differentiation and business success. Over 1,700 independent software vendors, 100,000+ enterprise customers, and a three-million-strong developer community rely on Progress to power their applications.