Life Happens is a nonprofit organization dedicated to helping Americans take personal financial responsibility through the ownership of life insurance and related products.
This September, we're partnering with Life Happens to help you educate your clients on the importance of protecting their families with life insurance.
Start the conversation with this year's theme "Life insurance—an easy decision" so your clients can see how easy and affordable it is. One simple purchase today will protect their loved ones for life.
We want to help you empower and educate your clients with access to simple materials that help you share the value and importance of having life insurance.
Consumer-Approved Materials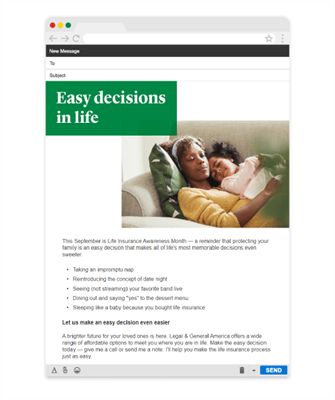 Introduce Life Insurance Awareness Month via email
We've made it easy to spread the word about Life Insurance Awareness Month with an HTML email template. Download the template below, personalize it with your signature, and send it to your list of contacts.
Directions for Outlook 365:
Download zip file

Open a new email in Outlook

Locate Insert > Attach File

Select the HTML file and "Insert as Text"