Our digital tools make the life insurance process fast, easy and seamless for our agents, partners and their clients — saving time and money.
AppAssist

tele-app service takes on application fulfillment and all requirements over the phone

eDelivery

for flexible, electronic delivery of policies to you and your client

eDocuments

is a fast way to send policy documents from your agency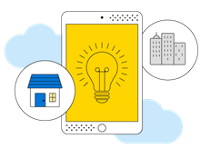 Check out our application platform — the ultimate digital tool.
The path to life insurance coverage is easier, faster and better than ever before.
Take advantage of our digital tools, while giving your clients the experience they deserve. Scroll down for details, or visit our

Partner Dashboard

to start an application.
AppAssist
Start an application with our tele-application program and let our experienced in-house team takes over the administrative burden of application fulfillment and case management.

Great Service
Customers can ask questions during the application interview performed over the phone by experienced, in-house professional staff.

Faster Process
The interview is typically completed within 48 hours of ticket receipt and voice signature speeds up the cycle time by three weeks.

Added Convenience
Interviews are scheduled at the customer's convenience and a paramedical exam, if needed, can be scheduled at the end of the call.
eDelivery
Let our flexible and award-winning eDelivery solution deliver life insurance policies electronically to your clients through our partnerships with DocuSign® and PayPal®
Fast:

Cycle time is reduced by more than 17 days, and 22% of eDelivered policies are completed within one day.

Easy:

Applicants opt in via voice signature, or with paper applications, by signing the eDelivery Authorization form; they can pay their first premium online via PayPal, credit card or bank draft.

Free:

No cost to start using eDelivery. Reduce or eliminate mailing costs for your agency.

Complete:

LGA collects all documents necessary to place the case, including payment, in good order. Clients can download and save signed policies.
AppAssist let's you drop a ticket on your coffee break. With eDelivery your client can activate a policy on theirs. Done and done.
eDocuments and Check21: Upload documents and submit imaged checks fast and securely.
Our eDocuments solution is a free document uploader tool that will save your agency time and money. Every agency contracted at the BGA level can upload PDFs or scanned documents directly to Legal & General America via our Partner Dashboard.
It's easy

. A few desktop steps is all it takes.

It's free

. Eliminates postage costs and vendor fee

It's better

. Doc upload puts your documents in our queue immediately — so it's faster and more secure than email or fax.

As an alternative to Check21, we also accept images from ExamOne and PaperClip, but for those of you who prefer a no-cost direct solution, eDocuments is for you.